Obi-Wan Finale - The Loop
Play Sound
How To Redeem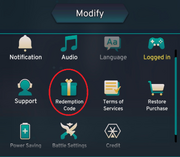 Open Code Atma Application
Clicking on your portrait in the upper left-hand corner pulls up the Seeker Details page.
From there, scroll a bit and you will find "Redemption Code" Button.
Click on it, then put the valid Redeem Code at the corresponding tab then tap 'Confirm"
Currently Active Codes
Here is a list of all the codes that were given together when and what were the rewards, the rewards includes many useful resources such as diamonds, shards or another collectible resources that you can use in Code Atma. All the codes are listed below:
---
Confirmed Expired Codes
To view the the expired codes, select "expand".
| Code Name | Rewards | Source/Description | Date Added | Date Expired |
| --- | --- | --- | --- | --- |
| ATMADISCORD500 | Diamond x1000 | Discord Milestone | Unknown | 12-07-2020 |
| ATMADISCORD1000 | Diamond x2000 | Discord Milestone | Unknown | 12-07-2020 |
| ATMAFB500 | Diamond x1000 | Facebook Milestone | Unknown | 12-07-2020 |
| ATMAFB1000 | Diamond x1500 | Facebook Milestone | Unknown | 28-07-2020 |
| ATMAIG500 | Diamond x1000 | Instagram Milestone | Unknown | 12-07-2020 |
| ATMAIG1000 | Diamond x1500 | Instagram Milestone | Unknown | 28-07-2020 |
| SOFTLAUNCHCODEATMA | Diamond x1000 | Code Atma PressCon | 25-06-2020 | 12-07-2020 |
| CODEATMA25062020 | Diamond x1000 | Socmed Puzzle | 25-06-2020 | 25-06-2021 |
| ANNISACODEATMA | Diamond x350 | Player Code | Unknown | 25-07-2020 |
| SINKACODEATMA | Diamond x350 | Player Code | Unknown | 25-07-2020 |
| MOMOYCODEATMA | Diamond x350 | Player Code | Unknown | 25-07-2020 |
| KASNABESTGIRL | Diamond x350 | Player Code | Unknown | 25-07-2020 |
| ATMALEVELUP | Unknown | Unknown | Unknown | Unknown |
| SKILLTREEATMA | Diamond x1000 | Unknown | Unknown | 03-07-2020 |
| communityawards2021 | Diamond x500 | Community Anniversary | 26-06-2020 | 28-06-2020 |
| communitystream0121 | Diamond x500 | Community Livestream | 29-01-2021 | 01-02-2021 |
| ATMABESTCOUPLE | Avatar Frame Agni x Babi Ngepet | Social Media Event | 01-06-2021 | 30-06-2021 |
| CodeAtmaXKireMobile | 500 Diamonds | Livestream Code | 15-09-2021 | 05-11-2021 |
| CodeAtmaXMtashed | 500 Diamonds | Livestream Code | 15-09-2021 | 05-11-2021 |
| CodeAtmaXWhatoplay | 500 Diamonds | Livestream Code | 15-09-2021 | 05-11-2021 |
| CodeAtmaXMogawty | 500 Diamonds | Livestream Code | 15-09-2021 | 05-11-2021 |
| M06TOWER4K | 10 Shards 5* Atma | Anniversary Code | 15-07-2021 | 31-12-2021 |
| D25USER300K | 15 Shards 5* Atma | Anniversary Code | 15-07-2021 | 31-12-2021 |
| Y01ATMA16M | 25 Shards 5* Atma | Anniversary Code | 15-07-2021 | 31-12-2021 |